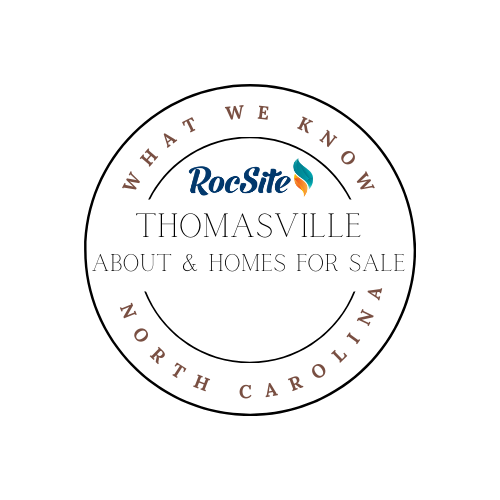 Thomasville, North Carolina: 5 Unexpected Finds
Located in the heart of North Carolina
Thomasville is a quaint city that's steeped in history and natural beauty. The city has several parks and attractions that offer visitors the opportunity to explore the outdoors and learn more about the area's history. In this blog, we will take a closer look at some of the top parks, things to do, and attractions in Thomasville, NC.

From beautiful parks and lakes to historical landmarks and farmers markets, there is something for everyone in this charming city. Whether you're a local resident or just passing through, be sure to explore all that Thomasville has to offer.
Thomasville, NC is a city steeped in history.
Founded in the mid-19th century, the city has a rich and diverse past that has played an important role in shaping the community we know today. In this blog, we will take a closer look at the history of Thomasville, NC, from its founding to its present-day status as a thriving city.
Founding of Thomasville Thomasville was founded in 1852 by John Warwick Thomas, a planter and politician from Guilford County. Thomas saw an opportunity to create a new community in the area and purchased over 1,000 acres of land. He named the town in his honor and set out to establish a thriving community.
Early Years In the early years of Thomasville, the city was primarily an agricultural community. Farmers grew cotton, tobacco, and other crops, which were then sold in the nearby cities of High Point and Lexington. As the town grew, it became an important stop on the North Carolina Railroad, which brought new residents and businesses to the area.
Furniture Industry In the late 19th century, Thomasville became known for its furniture industry. The town's location on the railroad made it easy to transport furniture to other parts of the country, and the availability of local timber made it an ideal location for furniture production. Thomasville Furniture Industries was founded in 1904, and by the 1920s, the town was home to over 20 furniture factories. The furniture industry helped Thomasville to become a prosperous and thriving community.
Present Day Today, Thomasville is a thriving city with a rich history and culture. The city is home to several museums and historical sites, including the Thomasville History Center, the Thomasville City Cemetery, and the North Carolina Vietnam Veterans Memorial. The city's downtown area is also home to a vibrant arts and culture scene, with galleries, theaters, and music venues.
From its founding to its present-day status as a thriving community, Thomasville's history is a testament to the resilience and determination of its residents. As the city continues to grow and evolve, it will undoubtedly continue to honor and celebrate its past while looking towards a bright and prosperous future.
This small town has a lot to offer, including a variety of excellent dining options.
From classic Southern cuisine to global flavors, Thomasville has something for everyone. In this blog, we'll highlight some of the best places to eat and dine in Thomasville, NC.
Granny's Donuts and Sandwiches – "Amazing customer service and amazing doughnuts. So Many to choose from. We had the cinnamon crunch doughnut and blueberry fritter! Definitely can't wait to come back! Don't drive by this place and not stop, if you do you will regret it!"
Elizabeth Pizza & Restaurant – The Di Puorto family-owned business continues thanks to its longtime customer base and loyal . Their goal has always been to use homemade Italian recipes and make their clientele and staff feel like family. Over the years, they have used the finest and freshest ingredients so they never sacrifice on quality. Aldo, Gino and Raffaele are thankful for everyone's support and business.
T-Ville Diner – This diner has been here a long time. Started out in an old train boxcar, so it's fitting that the place is decorated with old train light fixtures, picture frames made out of train window frames and other train stuff. The food is comfort food at it's best! Lots of choices…I mean lots! They have specials every day. I had the chicken pie (Wednesday special) which had lots of chicken in it and topped with a crust that's different from a pie crust, not sure how to describe it, but it's delicious. It was covered in a yummy gravy. Hubs had the beef stew with sides of mashed potatoes & green beans. The stew was so filling he didn't finish all of the sides. Everything came out hot and pretty quick. Our server was very good and knew what she was doing.
Barbecue Shack – We experienced good Lexington style barbecue, hush puppies and fries. One of the best peach cobbler in town. The barbecue shack also serves breakfast with very large homemade biscuits tenderloin add tomato and mayonnaise and you have a wonderful breakfast.
Sunrise Diner – We had a southwest omelet this morning which was served with sour cream and salsa. Also included was buttered toast and grits. My waitress, Judy, asked me if I wanted my grits in a bowl or on the plate. I've never been asked that before anywhere. I was served quickly and Judy kept the coffee coming. The food was good, and the portions were large. I will definitely eat here again the next time I'm in Thomasville.
Southern Roots – is a farm-to-table restaurant that sources many of its ingredients from local farms. The menu changes seasonally, but always features classic Southern dishes with a modern twist. Start your meal off with the pimento cheese fritters, which are a favorite among locals. For your main course, try the fried chicken, which is served with mac and cheese and collard greens. Southern Roots also offers a variety of craft beers and cocktails to enjoy with your meal.
Grove Winery and Vineyards – For a unique dining experience, head to Grove Winery and Vineyards, which is located just outside of Thomasville. The winery offers a beautiful setting for dining, with picturesque views of the vineyards and rolling hills. The menu features a variety of small plates, sandwiches, and salads, as well as wine flights to sample some of the winery's delicious wines. Don't miss the charcuterie board, which comes with a variety of cheeses, meats, and homemade pickles.
Mission Pizza Napoletana – If you're in the mood for pizza, head to Mission Pizza Napoletana. This cozy restaurant specializes in Neapolitan-style pizza, made with fresh and authentic ingredients. The menu features a variety of creative pizza toppings, as well as salads, sandwiches, and small plates. Don't miss the classic margherita pizza, which features fresh mozzarella, San Marzano tomatoes, and basil.
In conclusion, Thomasville, NC has a variety of excellent dining options to explore. Whether you're in the mood for classic Southern cooking, farm-to-table cuisine, or something in between, you're sure to find a delicious meal in this charming town. So next time you're in Thomasville, be sure to check out some of these great restaurants and cafes!
Homes and property for sale in Thomasville, North Carolina on RocSite.com